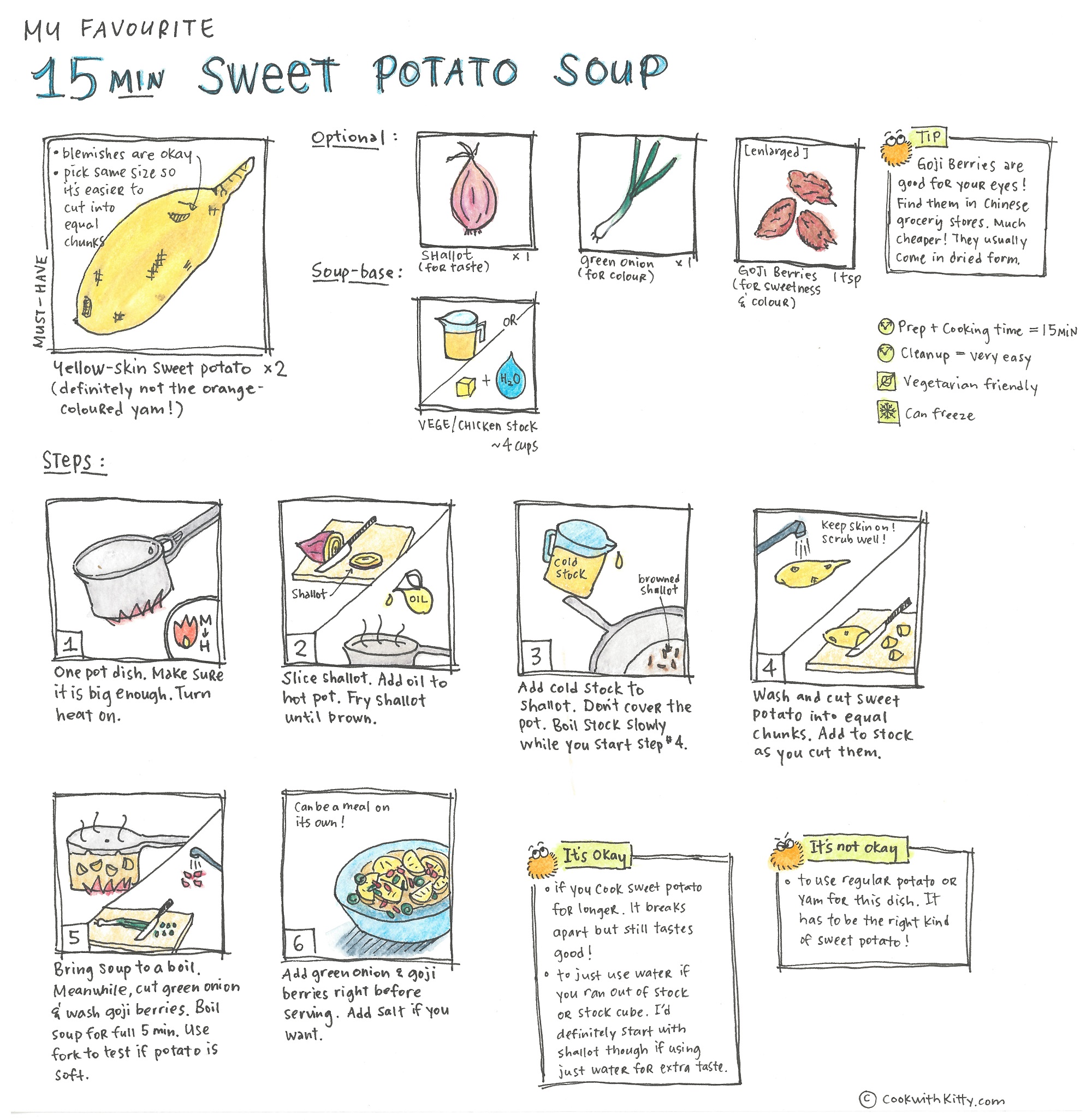 Preparation, plus cooking: 15 min | Level: Easy
This is Kitty's favourite soup to make at home. Not only because it takes no time at all, but also because it's packed with nutrients. In fact, this is what Kitty would make when he is sick, instead of the typical "chicken soup". It's surprisingly fulfilling and comforting.
The key to make this dish is to buy the right sweet potato, the rest is a no-brainer. Unfortunately, not all shops carry them but Asian grocery stores usually do. And just to make it more challenging, most shops in the United States label them as "sweet potato" but when you look up wikipedia, "yam" is really what you need in this recipe. Regardless of its real name, if you find the type with the pale yellow skin, you got the right one. It has less sugar, less beta-carotene (the red-orange pigment), and much more Vitamin C. (Tip: The QFCs and Whole Foods in my area carry this, but not Trader Joe's.)
Kitty called out a few ingredients in the recipe as optional. Which means you could just skip them and the dish will still turn out fine. Kitty is a realist when it comes to cooking and understand you don't usually have all the necessary ingredients around the house. E.g. if you don't have shallots, just skip step 2 and start with step 3 by pouring cold stock or water into the pot. Kitty suggests adding goji berries to make this soup extra special but is definitely an optional ingredient. One time, Kitty cut up a small tomato and added to the soup instead of goji berries just because there are some lying around. Tomato is also good for sweetness and colour. But of course goji berries are known in Chinese culture for its medicinal benefits. Kitty just likes them for the taste and colour.
Hope you'll like this quick and healthy soup. Let Kitty know how it goes or if you have any questions.
List of ingredients for easy copy and pasting:
2 "hand-sized" yellow-skin sweet potato (no need to be too exact with the measurement for this recipe)
1 small shallot (optional)
1 green onion (optional)
1 tsp goji berries (optional)
4 cups chicken or vegetable stock (water is fine too)
Here's what the yellow-skin sweet potato looks like: