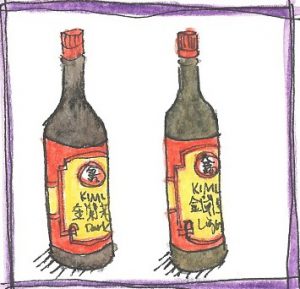 Soya sauce is made from fermented soybeans and has more antioxidants than red wine. Basically, it tastes yummy and it's good for you. It's probably the most important pantry item you need if you want to cook Chinese food at home.
There are many kinds of soya sauce in market. For cooking Chinese food at home, Kitty recommends the two most basic kinds: Light Soya Sauce and Dark Soya Sauce. They serve two different purposes. Simply put, the light adds taste while the dark adds colour. So most recipes on this site will call for both. And because it is such a versatile ingredient, you should have no problem using them up. It's not one of those pantry items where you buy once and use once only.
If you absolutely don't want to invest in two bottles at once, Kitty would buy the dark soya sauce and replace the light soya sauce portion with dark as well, with a pinch of salt. For example, when the Oven-Baked Chicken Legs recipe calls for 1 Tbsp of light and 1 Tbsp of dark soya sauce for marinating, you would add 2 Tbsp of dark soya sauce with a pinch of salt. That way you will still get the flavour and colour in the final dish. If you couldn't find dark soya sauce or you only have access to store-brand soya sauce, then Kitty would improvise and put 1.5 Tbsp of light or generic soya sauce to sacrifice the colour without potentially making the dish too salty.