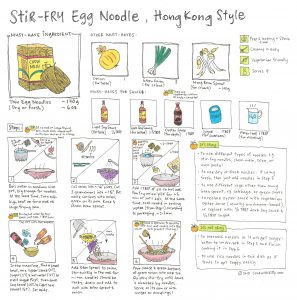 In Hong Kong, this dish would be called "See Yau Wong Chow Mein" or literally "Soy Sauce King Chow Mein". It is a popular dish for breakfast and dim sum places. But why play by the rules? Kitty thinks there is no reason why you can't make this for dinner, especially when it is so fast and easy to make.
The recipe calls for egg noodles but Kitty has tested this with multiple other types of noodles and it works just fine. There are so many choices when it comes to noodles in the Asian markets or even the Asian aisle of any supermarket. So, just pick up a small package of any type of stir-fry noodle or chow mein, and give it a go. The key is to use noodles that don't go soggy too easily. So, even spaghetti or angel hair could work too.
Most people are familiar with mung bean sprout; it's what you get on a little plate with your pho. If you have not cooked with it before, just know two things: they cook really quickly and they go bad really quickly when left uncooked. So add the bean sprouts towards the end of the cooking so you don't overcook them. And if you bought more than you need (btw, the 100g in the recipe doesn't need to be exact at all, it's basically a handful), better to cook what's left with some oil and salt (and eat it as a side dish the next day), than to leave them uncooked in the fridge as they will smell funny by then. Kitty tried cooking this without the bean sprouts and of course it still works if you need a quick dinner solution but the bean sprouts do add a nice and necessary crunch to an otherwise, boring dish. If you have other vege around, cut them thinly and cook with the onions in Step 3 to add some crunch.
Timing is key to this recipe. If you are new to cooking or you don't move as fast in the kitchen, then do Step 4 first (before Step 1) so the sauce is ready to go. If the noodle you choose takes longer than 2-3 min to cook, then adjust by cooking the noodle a few minutes before you start frying the onions. On the contrary, if noodle is cooked before the onion is ready, then remove noodle from the boiling water, rinse under cold tap water, and toss with a bit of oil (roasted sesame oil works even better) to prevent sticking. Then continue with Step 5 when onion is ready.
If you don't have a large wok or frying pan, then use the largest pan you have and cook each ingredient on its own and mix everything in a large bowl at the end.
List of ingredients for easy copy and pasting:
170g (or 6oz) of thin egg noodles (dry or fresh)
1 onion
~100g (a handful) of mung bean sprout
For sauces: