Kitty is in Shanghai China trying out some local food. He headed out to the less touristy area, towards the southwest of central Shanghai to visit the famous Longhua Temple and Pagoda.
It is quite common to find a vegetarian restaurant inside a Buddhist temple. Here's what a typical Luohan Noodle looks like with different kinds of mushroom, bamboo shoot, tofu, and wood fungus.
Right across from the temple, hidden in a side street, is this hole in the wall place selling Pan Fried Buns or Sheng Jian Bao, literally means "Raw Pan-fried Bun" to describe the buns are cooked from raw to perfection right in the pan. There are tables along the streets where you can sit to enjoy the buns. Locals are lining up and watching the chefs as they prepare and cook the buns on a huge shallow pan right outside the food stall. This is how this place caught Kitty's eyes in the first place.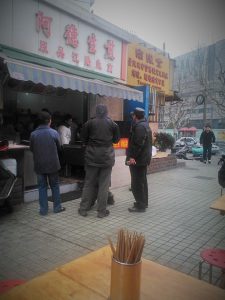 The Pan Fried Buns are cheap, 4 for 6 RMB (about $1 USD). They were worth every penny and the wait.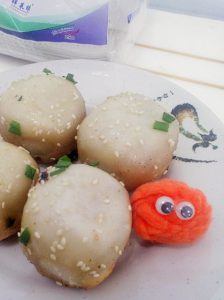 Each bun is pan-fried to perfection. The skin is not doughy, and is flavourful on its own. It is thin at the top so it's easy to poke through to expose the treasure hidden inside: a sizable and juicy pork meatball swimming in rich-tasting soup. Because the skin is pan-fried to a crunchy texture at the bottom, you can pick up the bun like a little bowl to drink the soup out of the bun before it runs off onto the plate. You just have to be careful not to burn yourself, as warned by the owner.