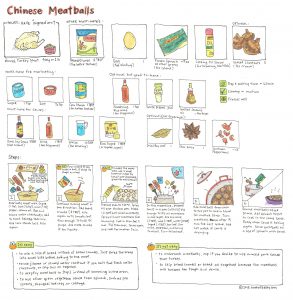 Preparation, plus cooking: 60 min | Level: Moderate
Chinese meatballs are traditionally called "See Tze Tau" or literally translated as "Lion's Head". It is most well-known to be a Shanghainese dish so it is only proper that Kitty originally learnt this dish in Shanghai from a friend's mother. The way it is made traditionally may not fit very well as an everyday dish though because it calls for deep-frying and special ingredients like Chinese donuts. So Kitty learnt the traditional way, but tweaked a few things to make it possible as an everyday dish anywhere in the world.
First of all, what makes these meatballs Chinese, you may ask? It's mainly in the sticky soy sauce that they cook in as the marinade is really simple, and the crunch from the water chestnut, though uniquely Chinese, is really optional.
As part of the effort to make this an everyday guilt-free version of the traditional dish, Kitty used minced turkey instead of minced pork, which has less fat but equally satisfying. The other major alteration is the browning method. Traditional style calls for deep-frying the meatballs to keep its shape and creating a nice crunch and colour for the outside. However, Kitty is not a big fan of deep-frying anything especially during the week.  It's too much hassle for cleanup. So after taste-testing many times with different methods, using oil spray and the oven is the easiest and fastest work-around. The next alteration is the bread crumbs. Many other meatball recipes will have some kind of a filler – whether it's bread crumbs, a slice of day-old bread, gelatin, or fatty meat – it's meant to create a less dense and more juicy meatballs. Traditional Lion's Head dish actually uses Chinese donuts. Using just half a stick, cut them up into small bite size, soak in hot water for a few minutes to soften and squeeze all the liquid back out for a great meat filler! It's brilliant actually. But it is harder to find outside of China, so Panko or regular bread crumbs it is. The last tweak is fresh water chestnut. Though it does add a very nice crunch to the meatballs and makes it more "Chinese", if you can't find it, just replace with jicama (not as crunchy though) or canned water chestnut. But really, skip it if you can't find it.
This dish is great with rice for a hearty dinner, but also makes a unique party appetizer. Just skip the vege and double the sauce portion for extra dipping. Guarantee a crowd pleaser!
List of ingredients for easy copy and pasting:
400g (or 1 lb) minced turkey meat (or any minced meat)
4 Tbsp bread crumbs (Panko works great too)
1 egg
~250g (or 9 oz) frozen spinach (or any frozen or fresh green vegetable of your choice)
1 can of cooking oil spray
3 water chestnuts (optional)
For marinating:
For sauces:
3 Tbsp dark soya sauce
1 Tbsp shaohsing rice wine
10 Tbsp water
1 Tbsp rock sugar (or regular sugar)
1 dried bay leaf (optional)
1 star anise (optional)
10 Szechuan peppercorns (optional)