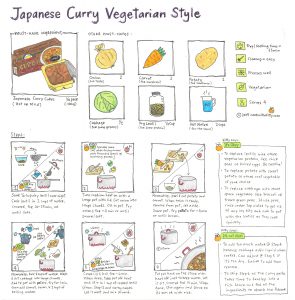 Preparation, plus cooking: 35 min | Level: Easy
Japanese Curry is often cooked with meat. But with the flavour packed in those Japanese Curry cubes, it is actually a great dish to modify into vegetarian style without really missing the meat. It is great for Kitty and all of you out there who try to cut down on meat and have at least a few vegetarian meals per week, i.e. vegetarian-wannabes. This could be your introductory vegetarian dish, or weekly #MeatlessMonday meal.
So the challenge is finding the right protein to replace the meat. Boiled eggs, chick peas, and lentils all worked beautifully. Kitty picked lentils to showcase in the recipe because he was pleasantly surprised how well lentils fit into the dish and absorbed the curry flavour, while masking the husky taste of lentils. If you are looking for a low-carb meal option, you can even serve this as is, without the rice. Traditional Japanese Curry dishes are typically served with white rice but this version was surprisingly satisfying without the rice because of the lentils.
List of ingredients for easy copy and pasting:
120g (half a package) Japanese Curry cubes (any brand and spice-level as you wish)
2 onions
1 carrot
1 potato
1/2 cabbage
1/2 cup dry lentil (yellow/tan was used in recipe testing but any colour should work; adjust cooking time accordingly)
2 cups hot water